Steeple Bumpstead Bowls League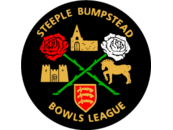 Steeple Bumpstead Bowls League
WALTER SMITH CUP RULES
---
The match shall consist of one rink at home and one rink away. Each player has TWO woods.
The game shall consist of 21 ends.
The scores from both rinks shall be added together and the team with higher scorer will be the winner.
The first team in the draw is the home team and they will play one extra end, with only one shot counting. If the scores from both rinks are level, the winner of the extra end will go through to the next round.
If the game is called off or abandoned on one of the greens due to weather conditions, both games shall be replayed from the start on an agreed evening before the next round.
Results Cards, signed by both Captains, must be sent to the League Results Secretary from both the home and away venues, to arrive within FIVE days of the match taking place.
If a team is a player short, the start may be delayed by 15 minutes, but once the game is started no new player may be added.
If a rink is a player short, the game shall proceed as follows: the Lead and Number 2 will each bowl three woods, but at the end of the match one quarter of the score of their rink will be deducted. (Fractions should be included in calculating the final score.)
General Rules 7, 8, 10, 11, and 19 apply.
Once a player has played in a team in the Walter Smith he/she becomes cup tied and cannot play for any other team in that season's competition.
Follow the site to get the latest news and results straight to your email
Contact Us
Any feedback, suggestions or issues with the site, just let us know.
Send a message